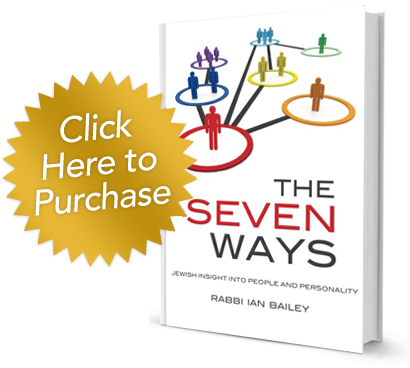 The Seven Ways
Welcome to the official Seven Ways website. Here you can read about The Seven Ways system and book, check out Rabbi Bailey's blog, and see a list of workshops and services.
The Seven Ways is an innovative new personality system that can immediately impact your relationships and career. Based on seven archetypal concepts that are found throughout all disciplines, the system offers definition and clarity in our unique temperaments and skill sets.
Accessible to people of all backgrounds and faiths, The Seven Ways can be used alone, or alongside the Myers-Briggs and Enneagram systems, while offering its own uniquely incisive psychological insights.
Entertaining to read, The Seven Ways book is an active adventure based on insightful interviews with members of each personality type; peppered throughout are key texts in Jewish thought and kabbalah that will stimulate your intellect. Join the hundreds of people who've already purchased and benefited: press the golden button and Discover Yours!
learn more